Pay and Play Card Systems have saved numerous clubs thousands of dollars a year.
More Info
San Diego Shotgun Sports in San Diego, California found they were losing 15% of their targets to shrinkage.
Learn More
Calculate how much money you are loosing due to target loss with our target loss calculator!
Click Here!
At Golden West we have thousands of parts in stock for immediate shipment and are happy to answer any questions you might have!
Contact Us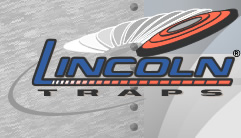 Lincoln Traps Target Machines
AS2002 Sporter Specifications:

Target Capacity: 320 targets
Height – 36"
Width – 24"
Length – 35"
Power – 12V DC deep cycle battery (approx. 5000 firings per charge)
Weight – 126 pounds
Elevation Adjustment: - 10° to +65° (elevates to teal position)
Side Tilt Adjustment: -10° to +15°
Throwing Distance: 100+ yard
Stainless steel magazine plate, launch plate and drop pad.
Power light to indicate proper battery connections. (Impossible to run machine in reverse.)
Target separating knife (allows feeding of wet or frozen targets)
No microswitch. Uses maintenance free non-mechanical reed switch.
Wash-down style motor with stainless steel hardware to withstand the elements.
Warranty: Clutch Assembly has 5 year warranty. Balance of the machine has 2-year parts warranty.
Quantity pricing available
Manuals/Parts Lists

AR2002 Rabbit/Chandelle

Automatic single arm rabbit/chandelle machine
Throws both rabbit and standard targets
More details coming soon!

SC-90E
5 year warranty

¾ cock, designed for commercial use, ultra quiet release, fully adjustable for unlimited target presentations. Singles or doubles. Heavy duty one way bearing assembly. Consistent targets time after time. Three spring tensions available. (shown with optional guard ring,GR100A) Optional rabbit arm available.

Falcon
1 year warranty

¾ cock, designed for the serious shooter, very quiet release, fully adjustable for target variety. Singles or doubles. Very con sistent. Available only with black spring (maximum distance 85 yds. with a single target). Optional rabbit arm available.


Flying Rabbit
5 year warranty

One of a kind ¾ cock trap, 3 different target presentations simply by moving stops on arm. Throw hopping rabbits, arched chandelle and springing teal all using rabbit targets. Target presentations limited only by your imagination. Singles or doubles with mixed presentations in one throw.
[ Back ]